My first bird dog and the stretch of the Colorado River where she got her name.
Parshal was killed at 4 1/2 years old.
A few more pictures of Parshal:
Ladies always cross their paws!
Vizsla.com, Vizsladogs.com - Check out the world's oldest pointing breed.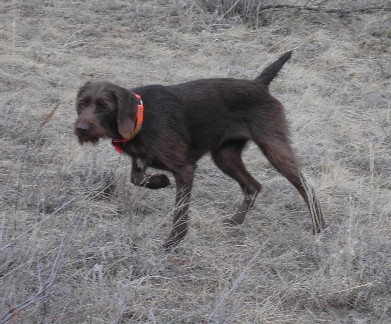 This is our Pudelpointer, Maddie.
We also have a German Shorthair Pointer named Cooper (VC Outlander Git 'R Done, MH) pictured on the last morning of the Kansas 06/07 season.
Here's a few dog links: The Pudelpointer Club of America, The North American Versatile Hunting Dog Association, Versatile Dogs, Quail Unlimited, Pheasants Forever
Two typical North Georgia waterfalls and their brook trout.
A brook trout and an average rainbow at Blackhawk, on the Soque River. Yes, these fish really were caught in North Georgia!
Call The Fish Hawk for more information about Blackhawk.
A large Mackinaw (Lake Trout) from Lake Chelan
A mayfly from a large nightly hatch at Lake Chelan
Fishing the Jordan in Michigan
A sixteen-inch brown caught on the Manistee during the hex hatch
Picture of the Colorado high country:
Near The Wild Irishman ghost town
Old mine and a second view